I know this abnormal amount of posts on this blog may confuse and scare some of y'all but let's just go with it, ok?
KARD is back with "You In Me" after multiple pre-realeses and a official debut. What stole the show for me so far was the great "Don't Recall". I went to this video today with medium expectations, knowing their formula and expecting to see maybe something different. Let's check it then.
The formula is obviously still there but this time in a positive way, without sounding the same song, repetitive, and more like a signature. The first verses are smooth and intentional, with a nice interpretation from Somin. Next we have J.Seph rap and then a typical KARD chorus but with Jiwoo singing this time. Next the same structure goes but now with BM's rap.
But You In Me is different in other ways. It's still tropical and synthesizers-centered but the elements and influences are more varied on this one. I listen to bits of hip-hop and 90's reagge influenced pop here and there and that pays off. It feels interesting how they adapted their sonority to a single that is darker than the genre.
At the motel "Apego" (that means something like a strong attachment to someone or something in Portuguese), they are shown trapped in this twisted obsession, with Somin and Jiwoon simulating a daily life with the deceased men. If they were the ones who killed them? I'd say absolutely. I mean… But for real now, the song shows in a symbolic way how destructible and sick a obsession on a relationship can be damaging and abusive but in the ultimate figurative way. It's disturbing and in real life is even more.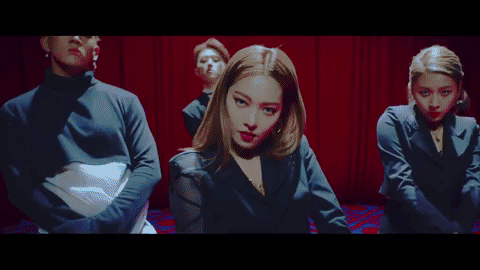 My love, you are my everything.
The MV has a nice lightening game that intensifies the macabre of the situation portrayed. I love the use of suits, I feel like when used unconventionally (like to do a split on the floor) is very nice. Somin and Jiwoo are from the makeup to the acting on point on it's characters and that really gives the wanted tone to the narrative.
You In Me is a creepy tropical in a creepy way. It feels satisfactory after all and I'll see what the next listenings will make of this track for me but so far, so good.