Hello! Is everyone good? Did everyone ate good food and watched your relatives asking intrusive questions about your personal life? Good, me too.
Now back with our list, in the second part, things started to get closer to the tracks I didn't stop listening throughout the year. Now, we'll have some smash hits already saying hello in this section. Can you guess? Let's check it out:
50 – Charisma.com – #hashdark
Previous Entry:
Album: not not me
Charisma.com entered a big label this year, releasing "not not me". The best track from the whole album is the single #hashdark, a track with a lot of urban feels to it, across the MV, with the rap circulating through it like a high speed car. The song takes another pretty good turn with the chorus and the after, with the addition of even more guitar elements.
 – • –
49 – Suzy – Pretending To Be Happy
Previous Entry: –
Album: Yes? No?
In a Suzy side track I found one of my biggest crying companions of the year. Pretending To Be Happy is very simple but there's something about it that makes it so melancholic, heart-breaking, decadent and almost cinematographic without appealing to a slow insipid ballad. Her soft voice, with no pretension at all, shows fragility and heart and made it a hymn for me, like I was on some street corner karaoke.
– • –
48 – Wednesday Campanella – Melos
Previous Entry: –
Album: Melos – Single
For this spot, I was very indecisive between three tracks from the group. "Zeami", the most feel-good track from "Superman", "Onyankopon", a delicious garage house that dominated my ears and Melos. And here we are with the winner. The glories are with it for a biased reason: it's music video. That is impeccable and gives life to a track we can agree it would be regular. It's beat drop and bossa nova gain strength from the contrast with the beauty of Mongolia's landscape and it works so well that it's hard to believe it's a CF.
– • –
47 – DEAN – Love feat. Syd
Previous Entry: 
Album: Love – Single
Another bossa-inspired track, now from k-r&b's golden boy DEAN, grabbed this position (it would be higher) for maybe being a little out of the subject of the blog but still managed to make it's appearance here. Acid Jazz, Brazilian beats, Syd's ♡ beautiful voice, pure chillout. How can I not love this?
– • –
46 – Blackpink – As If It's Your Last
Previous Entry: –
Album: As If It's Your Last – Single
When As If It's Your Last came out, it wasn't my favorite single from them but now probably is. The synthpop chorus really is a interesting touch to the busy instrumentals of the verses, that is also cool. It's entrancing and captivating. And just like I initially thought, this track is the one among all their releases that gives the group more personality. The group voices, specially Jennie's, keep being good additions to electronic songs and I like that.
– • –
45 – Sunmi – Gashina
Previous Entry: –
Album: Gashina – Single
When this song came out, I wasn't that captivated by it. Instead, I was very happy for Sunmi as a artist coming out of a big company and completely succeeding, turning Gashina on a smash hit. But now, just like BP's single, I much more sympathize with it. It may not be my favorite from her but is memorable. A big part of it for the MV, another big part for the choreography but mostly for the charismatic queen, Sunmi.
– • –
44 – Rania – Breathe Heavy
Previous Entry: –
Album: Refresh 7th
The sensual atmosphere of this R&B is great from beginning to end. The tension, the pondering, the micro-explosions. If it wasn't the absolute mess the group became with the mistreating of Alex, this would have had even more potential. It's something Ciara would easily release and that automatically put the track on my 'feeling real good' playlist.
– • –
43 – SNSD – All Night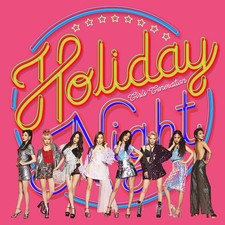 Previous Entry: –
Album: Holiday Night
In what would be their last comeback as a 8 member group, SNSD celebrated their 10 year anniversary with a full album and two singles, Holiday and All Night. The track was a delicious and fun way to make this moment remarkable. Everything about it ended up being suitable, from a more vintage cabaret vibe to a 80-to-90's production taking place of the sound. The soshis look as beautiful, youthful and vivid as ever and everything ended up being a righteous surprise for me. Also, check it out Sweet Talk for more of this vibe.
– • –
42 – Lovelyz – WoW!
Previous Entry: –
Album: R U Ready?
You guys know I'm a sucker for Lovelyz. The group, that for me figures on the elite of aegyo productions, often delivers sophisticated tracks on the saturated musical style, proving their place at the top. Here in WoW!, just like in "Destiny", the synthesizers are used not only in a delicate way, which is the signature sound of the sub-genre, but also bright and even melancholic. It's just well-balanced. WoW! is delicious, fun and very re-playable. Another victory to the girls.
– • –
41 – Red Velvet – Red Flavor
Previous Entry: –
Album: Red Summer
Everytime I go back to Red Flavor, a new conclusion comes to my mind. The first week of listening to it, I loved it. It was pure summer joy. A few months after, It didn't get stuck with me as I thought it would be. Maybe for the lack of a element particularly remarkable, like a hook or a dramatic key change. Either way, my final conclusion is: I really like it. It's vibrant, happy, kinda epic and beautiful. Just like Red Velvet itself. Also, going back to the album I always get very tempted to put "Mojito" instead, 'cause it's brilliant!, but the visual narrative for Red Flavor can't be missed.
– • –