Hi there, how are y'all doing?
I have finally left my "hiatus" to return with the blog's most consistent post: my monthly favorites. To be real, I love this post. I feel that a 30-day spam gives me a great selection of songs that accompany a mood or a season or a phase. Anyway, I'm very happy to be making.
The first month of the year is always crazy! Either nothing happens or a truck that forgot to derail last year decides to be late and makes those first 30 days offensively intense. I don't even need to tell which one of them is mine being, right? lol. Anyway, these songs undoubtedly helped me face this beginning of the year that already arrived strong and to restore my balance in a way that only music and art in general do to me.
Also, I decided that I couldn't left behind the songs that came out right at the end of 2017 out of it, so you'll find a slightly higher number of songs at this list.
Wow, I do ramble. I think we'd better go to this list now before this gets even more TMI than already is.:
---
Song: Heart Attack
Artist: LOONA
Album: Chuu – Single
In the last month of the year the blog's fave LOONA grabbed a spot in my list with another deviation of path with the fun Heart Attack. In approximation, the song reminds me of  "Vivid", for it's jazzy charm, and "Kiss Later" for it's quirky vintage and cutesy MV. And even though among the three, Heejin's solo is still the best, Heart Attack sounds like a interesting come together of the project. I know that the project still haven't been concluded or Chuu was the last member to be introduced but we are coming to a end and for all it's experimentation, it was cool to recapture the beginning like that to remind us how long of a path LOONA has already made. To the song and MV, it's fun, obnoxious and charming with Chuu stalking and obsessing over Yves up and down while displaying one of the strongest vocals from LOONA so far.
–
Song: C A T Feat. IU

Artist: Sunwoo Jung A
Album: C A T – Single
Cat's MV is definitely the main reason I had to display the track among my favorites of the month but the song doesn't get much behind. It's visual sweetness overflows to the simple and joyful interpretation of both singers. The video shows the two girls emulating a cat's life in such a amusing way I had no choice but to surrender for this quirky tune that clearly has french music references, a genre mellow k-artists often like to dive in.
–
Song: Bboom Bboom
Artist: Momoland
Album: Great!
Like a ~boom~, Momoland released the irreverent italo disco of Bboom Bboom. I was so surprised to see such a fun and well-rounded single coming from them. The song elevated the group popularity status considerably and even though I don't know much about them, I'd love to see these type of releases more, the type that balances replay factor, color and good production.
–
Song: Full Moon
Artist: Dreamcatcher
Album: 1st Anniversary – Single
As a celebration of it's first year of existence, our favorite soft-goth's released Full Moon. The build up overflowing in moments between guitars, violins and pianos creates the dark but youthful mood characteristic of the group's poprock songs only to peak at the great chorus. And with this celebration we realize how the group is undoubtedly the most consistent among the newbies. With only one year, all of their singles, without exception, went from good to great and this gives me a lot of comfort and anticipation. Simple like that, these girls are a fave.
–
Song: Heroine
Artist: Sunmi
Album: Heroine – Single
Heroine is structured, from beginning to end, with the sole purpose of becoming a hymn. And the results are pretty close. Her whispered verses set the tone for a much more sober single in comparison to the ironic "Gashina". The jarring pre-chorus enunciates the drama and the instrumental chorus releases the dancing, sad, liberating and epic. The type to cry in the middle of the dancefloor. In the MV we have the quirky diva but less accessible and more sad and satirical. Like a heavy makeup to hide the pain, the visual splendor masks the delusion of the verses. A true dance pop diva on the making.
–
Song: Roller Coaster
Artist: Chungha
Album: Offset
Another female soloist that is a dance diva in the making, the lovely Chungha. I mean, I'm a fan. I think she's talented, charismatic and has a pop star quality that definitely stands out. Her debut "Why Don't You Know" didn't show up at the blog last year because it didn't catch me but still managed to present her qualities, even if in a shy way. Now with Roller Coaster we watch a slightly more complex production that accentuates her potential through a resonating club music. The fact that she's one of the most successful members from IOI is really surprising, in a great way, given that her agency is being brave with her career strategy, not conforming on what you would expect of a solo release these days on k-pop. So, yeah. Roller Coaster may not be the absolute BOP i'm still hoping but definitely manages to stick, arrive and captivate.
–
Song: The Adult Code Feat. Nao Matsuzaki
Artist: Shiina Ringo
Album: The Adult Code – Single
The Adult Code is a track that Sheena wrote for a project band called Doughnuts Hole back in December. In this "retake", Shiina and Nao deliver a amazing version, with a tense orchestration and interpretative elements that you can only find on veterans and that makes of it a small masterpiece. The guitar at the end snatch everything for complete given this a masterful female rock redemption.
–
Song: Lower
Artist: Amber x Luna
Album:  Lower – Single
Lower is a very common-place house and I don't deny it. The presence of this track here is simply and purely for the interpreters. Luna and Amber are part of one of the best girl groups of all time and also two key figures on that merit. Both of them show, here and in almost every occasion, abundant talent and charisma. Luna is a complete artist and Amber gives that edgy urban vibe with her delicate vocals over these electronic tracks the "duo" randomly receives from SM. Unfortunately, is not f(x) as a whole but we have Luna and Amber and that is more than we could ask for.
–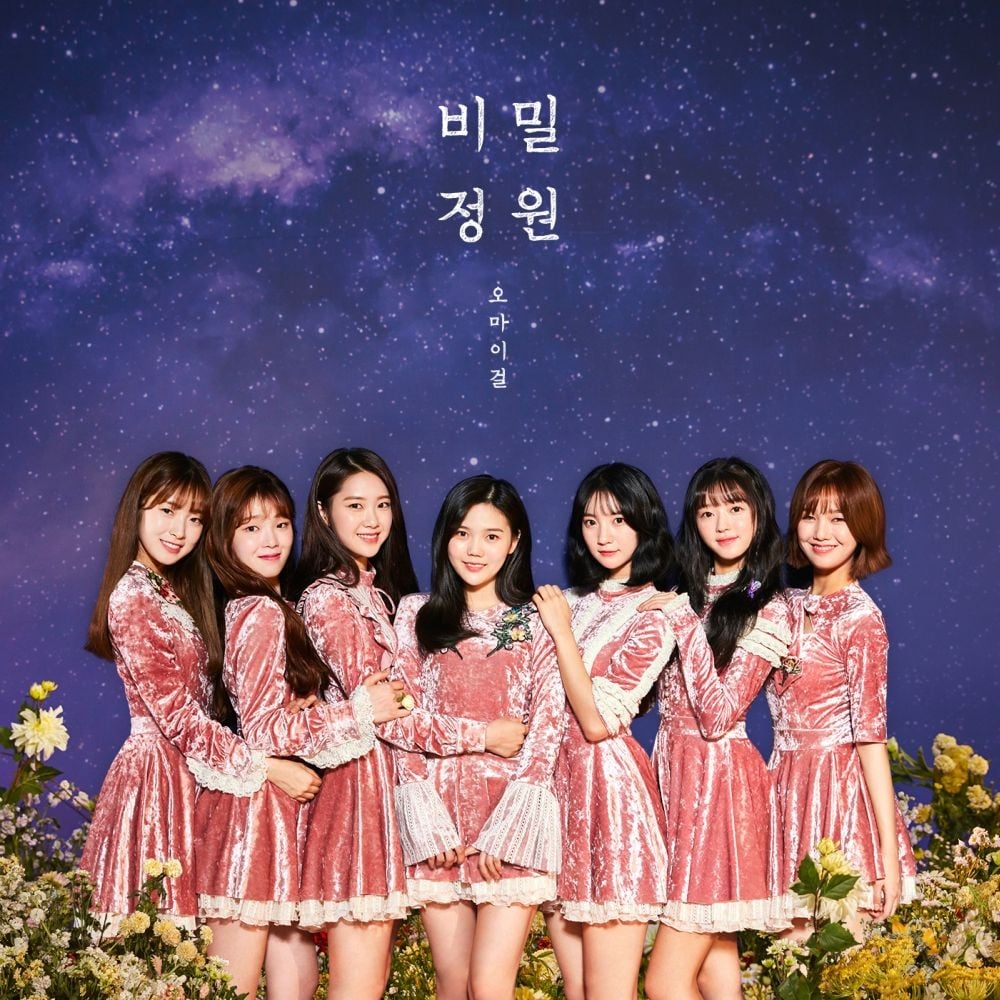 Song: Secret Garden
Artist: Oh My Girl
Album: Secret Garden
Debuting their appearance on the blog, Oh My Girl returned with the ludic Secret Garden. The song incorporates some of the elements that most favor the group, with gentle synthesizers that unlike other aegyo acts, are superimposed on an energetic and engaging backtrack as well as in the majestic "Closer". The chorus may not have the same strength as the rest of the verses but it cherishes the dreamy and epic mood that is built throughout the song. The group did not captivate me with any single since "Liar Liar" so to have Secret Garden occupying this spot gives me great satisfaction.
–
Song: SObeR
Artist: Suzy
Album: Faces of love
I don't know if I was the only one that got super hyped for Suzy's comeback after her great solo debut last year that ended up disappointed but that's what it is. Both singles I didn't like and the mini album is mostly passable with the exception of two songs: the gently melancholic "Sleeplessness" and the sweetly nice SObeR. I actually really like this song. The acoustic background fits the simple elements perfectly, giving such a nice vibe to it. It's so delicious to listen and while I'm making this list I'm looking to some kids play in the rain while sipping coffee and it feels so good and to aggregate like that is something I simply adore in songs.
–
Song: Hush
Artist: Mixnine (MY 9ME)
Album: Mixnine Part. 4
I was really surprised while listening to these improbable BOPS that came from Mixnine aka the infamous reality show created by that hateful old man. While the show ratings were terrible, it ended up releasing these three pretty good songs, all reminiscent from what world-wide girl groups used to release around the mid-2000's and I'm 100% here for it. While "Dangerous Girl" was the weakest of the three (still having a great pre-chorus), Hush and "Like a Star" were equally catchy and great in their own way. One is a banger with energetic hip-hop beats with a smashing chorus while the other is a classy girl group house act produced at it's best. I ended up choosing Hush for it's nostalgic effect on me (this could easily be a Mis-Teeq or Danity Kane track) and because, well, it bangs.
–
Song: Say Yes
Artist: Joonil Jung
Album: Elephant
Another not that known soloist that excited me was Joonil Jung with Say Yes. His raspy voice goes off here with a very simple R&B that works fantastically with me. You guys know this kinda of slow paced k-r&b usually works with me in a ratio of 10/90 and here's the 10. I really like his exaggerated deliver in such a simple song turning into a beautiful atmospheric moment at the end.
–
Song: I Want Love
Artist: Kassy
Album: I Want Love
I Want Love is a track that incorporates a lot of elements present on k-pop but that takes it to another level. The intro hook is pin-point dramatic but then a sophisticated lounge instrumental comes in going for a double-chorus, with synths that emulates Korean traditional music sounds only to retake the dramatics from Korean soloists with a poignant violin at the background while being a fresh tune. 9muses used to make stuff like this and I was missing it.
–
Song: Hola
Artist: Girls On Top
Album: Hola – Single
A good friend of mine that reads the blog (hey Luh!) asked me these days why I never displayed Mamamoo and I told her that the group is always on the verge for me but they never really catch me with their songs. Great vocals but the final product doesn't captivate me often (with few exceptions of course) and to illustrate that, Hola from Girls on Top kinda came on handy. I love this song because the sultry and jazzy tone of it take me to a pop place, instruments and vocal. A kinda epic place. I was really captivated by it this month and I'm not complaining.
–
Song: Only One You Need
Artist: Jonghyun
Album:  Poet|Artist
To close the list, a b-side from Jonghyun's posthumous album "Poet|Artist", Only One You Need. Needless to say how sad this mention is, Jonghyun's career was marked by talent. Talent on the voice, on the songwriting, on the character. And his last album is no different. The note it gives is one of joy, vibrancy and pure satisfaction and although this comes as nothing but bittersweet, his legacy stays and Only One You Need was the song that for me captured all these unspeakable feelings the best. Shine bright Jonghyun, forever.
–